Webperformance is to attend IAB Seminar 2013 as a gold sponsor

Also this year IAB Italia presents the IAB Seminar, an important event of national significance, dedicated to interactive digital communication. The seminar will delve into the topic of performance-based web marketing.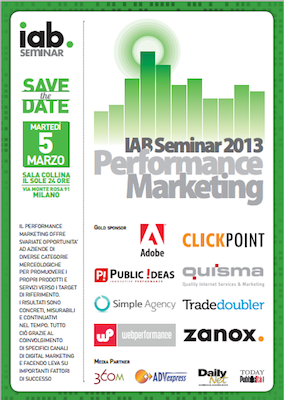 As one of the event sponsors, Webperformance will hold a speech on performance-based campaigns, along with other important companies of the field, such as Adobe, Click Point, Public Ideas, Quisma, Simple Agency, Tradedoubler and Zanox.
The seminar will be hosted by the Sala Collina of Il Sole 24 Ore headquarters on  the next March 5th. Through an in-depth analysis and case reports, the seminar will look into the pluses and the trends of this innovative compensation method of online advertising.
Just like in the previous editions, in fact, IAB Seminar aims at spreading and sharing the knowledge and the experience gained by the Italian market operators.