restOpolis entrusts Webperformance with the online promotion of its website.
restOpolis is a Milanese start-up providing an innovative online service, namely the possibility of booking local restaurants from one single website, benefiting from discounts and promotions and collecting points.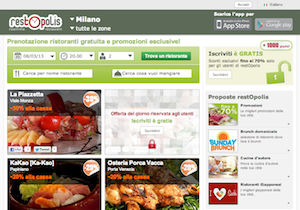 But there is even more: users can leave their comments and check out the opinions left by those who have already tried the service.
Webperformance was tasked with the promotion of this activity, through Keyword Advertising campaigns (sponsored ads on Google) and Facebook Ads. Both campaigns are targeted at the Milan area and are remunerated on a pay-per-click basis.