Webperformance adds two major companies to its new clients.
The two companies we can now boast among our new clients are very well-known on the Italian market.
One of them is Mondadori: for its new online bookshop Books For You, we have launched two different DEM and Landing Page campaigns, to promote the newsletter subscription and the 20-80% discounts on books. We got excellent results in terms of mail opening and click-through rate.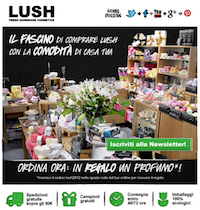 The other is Lush, a producer of fresh and hand-made cosmetics. For Lash we have carried out a DEM campaign, targeted to users interested in beauty and environmental issues. Once again, the response was excellent in terms of both mail opening and click-through rate. So much so that we will soon launch new performance-based campaigns on a cost-per-sale basis.