The countdown to the IAB Seminar has started

There is very little time left the the IAB Seminar 2013: this event, organised by IAB Italia, will take place next week in Milan and will feature Webperformance among its golden sponsors.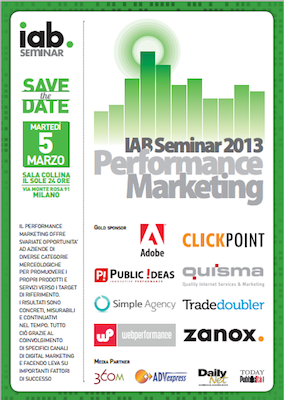 On 5th March, the Il-Sole-24-Ore headquarters in via Monte Rosa will host the protagonists of interactive digital communication, who will discuss the topic of performance-based web marketing, an innovative and favourable compensation method of online advertising.
Webperformance will hold a speech titled "The Dos e Don'ts for a Successful Performance-based Campaign", delving into the "rules" to follow in order to get the best results from performance-based advertising.
Our intervention is the result of our long experience in the market of performance-based advertising, and is based on our "Guide to Performance-based Web Marketing. All the Secrets of New Online Marketing" : a free copy can be requested here.
If you wish to register for the event, you just need to fill out this form on the website of IAB Seminar.