Publishers: welcome Stol.it!
Stol.it has recently joined our network of licensed websites, entrusting us with the sale of advertising space.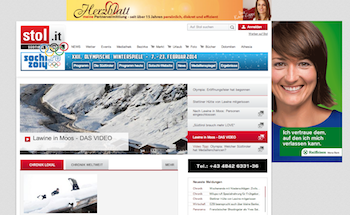 This German online newspaper features local news about Südtirol, as well as providing coverage of national and international events.
The news section comprises currents affairs, politics, economics, culture, sport and free time. To simplify and speed up the consultation process for local users, the news about Südtirol are sorted out by district. The website also features the weather forecasts, a section dedicated to holidays, ads and much more.
Each month, the website records 13 million page views and 2,3 million unique users. On average, its users are aged between 25 and 35; 60% of them are females, 40% are males.
For Stol.it, we collect advertisers for banner campaigns in a standard tabular format, but also for pre-roll videos, which are viewed by users before the video-interviews featured on the website.
Finally, we have recently started a collaboration aimed at monetising mobile traffic by means of the insertion of a 320×50 banner in the Stol Mobile app.