Latest publishers
---
Scambieuropei.info and Notizieshock.it joined the group of Webperformance's publishers
Scambieuropei.info and Notizieshock.it are among our most recent publishers.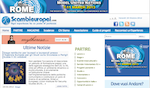 The former is a portal about mobility opportunities for young people. It received the Free Mobile Awards prize in the "Travel and Tourism" category.
Scambieuropei.info provides useful information about study, internships, work and voluntary work abroad. Its users are predominantly female college students and graduates, aged between 18 and 35 and interested in travelling, culture, photography, current affairs, music.
The latter features the most curious and weirdest news on the web. Its users are both male and female; they are mainly young, aged between 18 and 35 and interested in social networks. Notizieshock.it registers 1.3 million impressions per month.